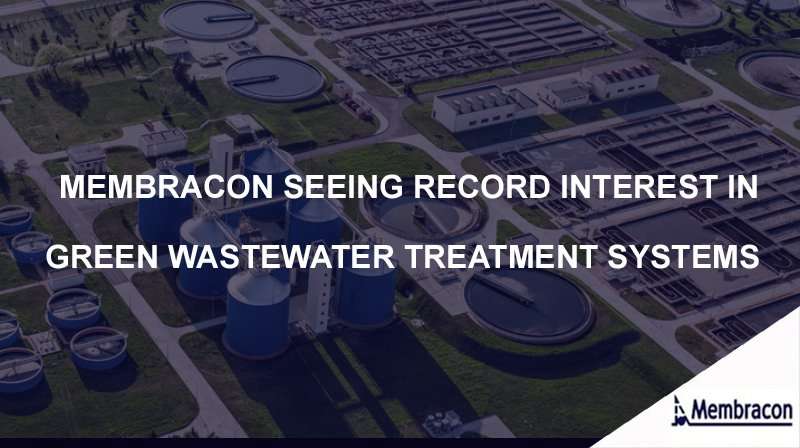 Membracon seeing record interest in green wastewater treatment systems
Population growth, economic development and changes in land use are contributing to increasing wastewater levels. Wastewater levels are now at record highs, and treating it is a significant medium and long-term challenge.


As plants deal with this tsunami of wastewater, wastewater treatment companies are looking for new, more efficient ways to purify and disinfect water to acceptable levels for discharge in large quantities.


Membracon has noticed a significant increase in investment by wastewater treatment plants to treat high water flows. However, unlike in previous years, investment decisions are mainly fuelled by environmental concerns.


The effects of wastewater on the environment, and the impact of wastewater treatment plant upgrades, are giving decision-makers pause for thought. Environmental concerns are now baked into decisions at a corporate level.
Green wastewater treatment 
The challenge for wastewater plants today isn't just how they can treat as much wastewater as possible, but how to treat wastewater to as high a purification as possible with the lowest emissions over the equipment's lifecycle.
At Membracon, we take a green engineering approach to designing all wastewater treatment systems. This approach is helping wastewater treatment plants measurably meet their environmental goals.
Here are a few of the measures we take:
Green engineering, where parts are replaceable, and systems have a long-expected lifespan and minimal servicing requirements.
Innovative Prote Technologies reduce sludge and transform sludge into fertiliser in a single system.
Water recycling and reduction of use are built into all industrial water treatment systems to reduce demand for fresh water.
Carbon Auditing across our D&B (Design & Build)projects to mitigate emissions and ensure low carbon workflows.
Our integrated approach to green engineering ensures low emissions and low environmental impact across a project's lifecycle.
Popular wastewater treatment technologies
Wastewater can be treated biologically, chemically, mechanically, and through a combination of processes. Even the most saturated wastewater can be purified, making it suitable for discharge and refinement for drinking.
Reverse Osmosis is the most capable water treatment technology. It can reject 99.9% of bacteria and remove salts, sugars, proteins, bacteria, ions and other particles. No chemicals and virtually maintenance-free.
Water recycling units include a Membrane Bio-Reactor (MBR) system that pairs biological treatment with membrane filtration. These systems recycle water onsite and can provide a closed-loop water supply.
Microfiltration blocks bacteria and suspended solids, often for pre-treatment by reverse osmosis (RO) systems.
Ultrafiltration blocks everything microfiltration does with the addition of viruses. It is used to clarify liquids.
Nanofiltrationblocks 50-90% monovalent ions, organic molecules, and salts. It is used to treat hard and saturated water.
Ultraviolet Disinfection destroys viruses and bacteria with UVC light. It is used for bacterial and virus control, ensuring organisms cannot replicate.
With Membracon, wastewater treatment plants can adopt state-of-the-art systems without a high carbon penalty. The low-energy requirements and capabilities of Membracon's systems are best-in-class, specially designed for every application.
Contact us to find out more about how Membracon can help your wastewater treatment plant with green technology. We're here to help.