Pharmaceutical plant, Taizhou, Zhejiang, China
A complete wastewater treatment plant for a multinational pharmaceutical plant in Taizhou, Zhejiang Province, China was completed in December 2012. The plant was designed by the Portuguese company Valorsabio in collaboration with Shanghai MegaVision Membrane Engineering & Technology Co. Ltd. Implementation of the technology followed the successful completion of several months on-site testing for system optimisation, this being demanded by the complex and challenging nature of the industrial effluent being treated. The wastewater flow was around 400m³/day, according to 2010 data.
The retrofit solution makes use of the existing concrete tanks together with anaerobic pre-treatment with a UASB (Valorsabio UASB-PRO), implemented in November 2011, and aerobic treatment based on Valorsabio's Jet-Loop System©. Membrane separation is based on Shanghai MegaVision FMBR-1.0-100 FS membrane panels. These are arranged in 12 modules containing 100 x 1 m² panels (and thus a flux of around 14 LMH at the flow of 400 m³/day) divided between 2 tanks. Further clarification by chemical coagulation/flocculation has been installed to remove non-biodegradable substances.
The UASB-PRO employs a new pulse process for the wastewater feed which addresses issues sometimes encountered in large UASBs relating to unbalanced feed distribution, short-circuiting inside the bioreactors and difficulties in stabilising the up-flow of wastewater within the design range. The anaerobic treatment reduces the COD loads by up to more than 85%, generating biogas which offsets the operating cost by its use for water heating.
The aerobic process operates at an HRT of less than 25% of the previously installed conventional activated sludge process. The COD is reduced from 1,300-1,400 to 600-800 mg/L.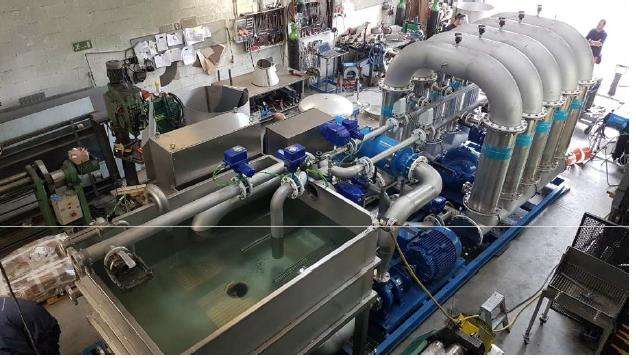 More International Partner Case Studies